Negros Oriental: A Home Away From Home
7/07/2015
HOW TO GET THERE:
By Air:
The easiest way to get to Dumaguete is by plane.
Cebu Pacific
and
PAL Express
have daily trips that fly directly from Manila/Cebu to Dumaguete. See schedules below. Travel time is approximately an hour and fifteen minutes.


By Water: 2GO Travel

is the only company I know that travels from Manila to Dumaguete (v.v). There used to be two, Super Ferry and Sulpicio Lines but they stopped after Typhoon Pablo.


For Schedules and Rates

Customer Interaction Center

Trunkline : (+63 2) 5287000

E-Mail: info@2go.com.ph


For Online Ticketing

Website Coordinator

Trunkline : (+63 2) 5287209

You can also ride a ferry/fast craft from Cebu to Dumaguete. For general schedules, check

http://schedule.ph/boat/from/Cebu-City/to/Dumaguete

. It is best to check with the shipping company first since schedules change without prior notice.


GETTING AROUND:

There are no taxis in Dumaguete. The best way to get around is to ride the tricycles. Minimum fare is PhP8. You can also rent the trikes for a whole day, price is negotiable.




You can also rent vans/cars for a day. You can self-drive or request for a driver to tour you around the city. Daily rates range from P1,500 -2,200. Listed below are two rental companies you can try:




Quantum Dlux Tour

Contact #: 0917 841 6684 / (035) 420 5008

Email Address: quantumdlux@yahoo.com.ph / quantumdluxtours@gmail.com

Website: http://quantumdluxtours.com/

Safe Ride Car and Van Rentals

Contact #: +63 32 260 4995 / +63 917 310 0392 / +63 917 540 0159 (Viber and WhatsApp) / +63 925 511 6111 / +63 918 945 6960

Email Address: dumaguete@saferidecarrental.com

Website: http://www.saferidecarrental.com/

I am going to list four hotels only in Dumaguete since these are the ones I'm familiar with. I haven't tried staying in these hotels since my family has a house in Negros. Better check

Trip Advisor

to see the ratings and reviews for these hotels. :)
Budget friendly hotel situated in downtown Dumaguete with rooms ranging from P250 (dorm) to P1300 (air-conditioned). Rooms come with free breakfast, coffee, tea, safety deposit box and lockers.
Address:
205 Hibbard Ave. Dumaguete City, Philippines 6200
Contact No. +63 35 522-0144 / +63 35 422-3477 / +63 917302-4455 / +63 939925-6322
Email Address: harold@haroldsmansion.com
Hotel is situated right at the heart of downtown Dumaguete. Rizal Boulevard and other commercial establishments are just walking distance. Airconditioned rooms range from P1,050 to P2600.
Address: San Jose St., Dumaguete City, Negros Oriental, Philippines 6200
Contact No. +63 35 226-3330/ +63 35 422-5114 / 63 35 422-0788 / +63 917631-2109 / +63 922889-4911
Email Address: hotelnicanor@yahoo.com



Hotel is also in downtown Dumaguete and room rates start at P1000. Location is near Silliman University and Holy Child Hospital.
Address: Dr. V. Locsin St, Dumaguete City, Negros Oriental 6200, Philippines
Contact No. +63 35 422-8995/ +63 35 422-8995 / 63 35 226-2775 / +63 917771-1600/ +63 922888-4371
Email Address: hotelpalwa@yahoo.com
They have 102 available rooms 16-22 sq. meters in size. Go Hotels is situated beside Robinson's Place Dumaguete but a bit far from downtown Dumaguete. You'll have to take a tricycle to get to other commercial establishments. Room rates start at P1088.
Address: Calindagan corner South Road, Dumaguete Central Business District, Dumaguete City
Website: http://www.gohotels.ph/locations-page/specific-location/dumaguete/
Contact No. +63 (35) 5221100 / +63 (35) 5221102
WHERE TO EAT:
Flores Ave
|

Piapi, Escano Beach

,

Dumaguete City,Negros Oriental

,

Philippines
I haven't tried eating here yet but this is one of the Dumaguete favourites. T

hey offer

American,

Mediterranean, Filipino, Asian and Vegetarian Cuisines which is why you'll find that most of the customers are foreign nationals.
Located across Rizal Boulevard, this restaurant boasts of fresh seafood dishes, cocktails, great music (courtesy of a live band at night) and a good view of the sea – definitely giving justice to its name; hayahay in Cebuano means "comfort/convenience/laidback". Food can be a bit pricey ranging from P200 to P1000.
Must try:
Seafood Platter
San Jose Street
,

Dumaguete City,

Negros Oriental

,

Philippines
You cannot go to Dumaguete without visiting this restaurant. Sans Rival is a souvenir shop/bistro where you can buy the famous Dumaguete Silvanas (P140 a box), a dessert made from a layer of buttercream sandwiched between two cashew-meringue wafers coated with cookie crumbs (yum!).
They have three branches: one is located in San Jose St. (this is the original store), another is the along Rizal Boulevard (this is the old house of the owners which they converted into a bistro) and the third one is at Robinson's Place Dumaguete. They offer Filipino food, pastries and desserts ranging from P15 to P200.
Must Try:
Silvanas (Classic and Chocolate), Sans Rival Cake
Silliman Avenue, Dumaguete City, Negros Oriental,Philippines
I have personally tried eating here several times and I highly recommend it. For only P120, you can enjoy one piece of grilled chicken with atsara (papaya salad) on the side and unlimited rice. :)
Their grilled chicken is like Bacolod's Chicken Inasal but sweeter and better. They have two branches: one near Silliman University and one near Sibulan Airport.
Must Try: Grilled Chicken
This is a budget-friendly "turo-turo" restaurant scattered around Dumaguete. They offer home-cooked dishes like adobo, nilagang baboy (pork stew) and lechong paksiw. If you are short on cash, this one is an ideal place to eat. Food range from P50 to P300.
Must Try: Grilled Pork Belly (Liempo)
Flores Street, Dumaguete City, Negros Oriental,Philippines
Lab-as is a Cebuano word which means "fresh" and this is what the restaurant is know for. Located along Rizal Boulevard (beside Hayahay), Lab-as offers a wide range of freshseafood dishes to its customers. Their best-seller is the Dumaguete Express, a mixture of squid, fish, shrimp, malunggay (moringa leaves) and buko strips all served in a coconut cream-fish broth soup topped with grilled pork. Food price starts at P250.
Must Try: Dumaguete Express, Siglaw (fish ceviche and grilled pork)
Painitan in the Dumaguete Public Market (Tiangge)
Okay, this is not really a restaurant but more of a line of stalls found in the public market. Going to a painitan is a must when you are in Dumaguete. They sell my favourite breakfast dish, budbud – a delicacy made from sticky rice cooked in coconut milk and sugar. Budbud is best paired with hot chocolate made from tablea (pure cacao beans that are dried, roasted and then ground). A piece of budbud costs P5 and a cup of hot chocolate is P10.
You should also try the Budbud Tanjay which is basically the same as the normal budbud except that it is streaked with chocolate already. Three pieces of this yummy delight will cost you P20
Visit the Belfry Tower and other old churches around Negros Oriental
Walk around Silliman University
Go kayaking in the Sibulan Twin Lakes (Lake Balinsasayao and Lake Danao)
Appreciate nature in Lake Balanan
Hang out with dolphins in Bais
Swim or sunbathe in the Manjuyod White Sandbar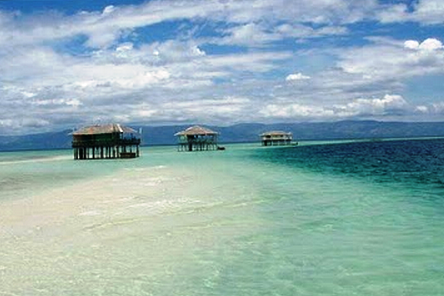 Dive or snorkel in Apo Island
Try a different kind of shopping experience in Malatapay Tabo-tabo market
Antulang Beach Resort
I'm going to write separate posts for each of these activities based on my experience. I'll also share pictures and tips as well as sample itineraries.
Hope this post helps. Let me know below if you have any questions and I'll try to answer them as much as I can. Ciao! :)
- Ina